こんにちは、民泊メール代行のZAP代表奥本達彦です。
さてさて、今日は私が育った岡山をスタッフたちが調べてくれました‼
岡山といえば⁇キビ団子?B'zの稲葉さんや、ブルハーツの甲本ヒロトの出身地??
さてさて、スタッフは何を調べてくれたのでしょうか⁇
Okayama is one of the provinces, which is located in Chugoku Region, the western part of Japan. To the south, there is a sea called Seto Island Sea, and over the sea, there is a large island named Shikoku, which consists of four other provinces. To the north, there is a mountain chain named Chugoku Mountains, which runs throughout the region, and is the provincial border between Okayama and Tottori (which is a province faced to the Sea of Japan). Thanks to being surrounded by the Shikoku and Chugoku Mountains, the climate in Okayama is very temperate except in the northern area. The daylight hours are relatively log, and it rains less than any other provinces, so Okayama is said to be "a sunny province." 
The biggest city is Okayama city, which is the capital of Okayama province. In Okayama city, there is one of the three greatest gardens, named Koraku-en. This is a traditional Japanese garden, which was designated as a beautiful scenic spot by the Japanese government 60 years ago. Koraku-en was first established about 300 years ago by the feudal chief at that time, behind Okayama castle for relaxation. It was enjoyed by being viewed from the castle at first.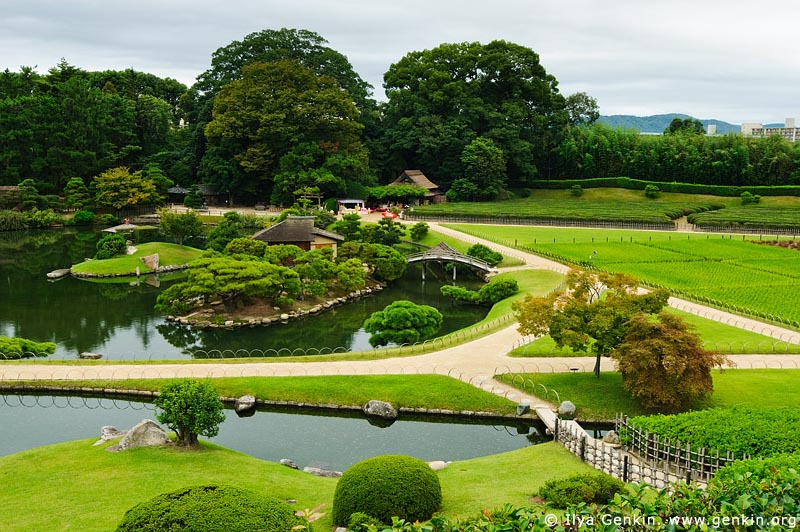 Later feudal chiefs reformed the garden with their preferences, for example, rebuilding some constructions, and making waterways, and it became a garden to enjoy walking around and viewing its beautiful scenery.
Most of the original garden was destroyed during World War II, but it was rebuilt based on the drawings at that time, and now it is popular as a garden which reminds us of the ancient times. In spring, many full-blown cherry blossoms welcome you, and in autumn, you can enjoy colored leaves. The rice field, seasonal flowers, and Japanese cranes make you relaxed. 
なるほどなるほど、そうだよね。岡山といえば、後楽園だよね!!
日本三名園の一つだし、芝生と桜といった和洋折衷の庭はなかなかありそうでない、大好きな庭園です。
また、後楽園は、結婚式でも多く活用されています。
去年の4月ごろ、僕の親友もここ、後楽園で結婚式を挙げました‼
是非是非、岡山に行った際には後楽園散策、してみてくださいねー!

ボタンクリックお願いします!